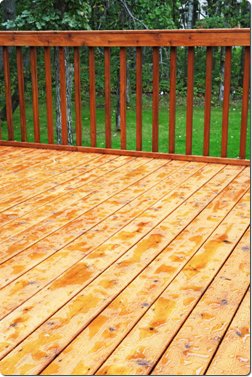 Staining decks for our Louisville and Southern IN customers is a job we take great pride in. Doing a quality deck staining job takes a little more effort than most deck staining companies in Louisville are willing to provide, so we do a lot of them.
One of the keys to a long lasting deck staining finish is the prep that goes into the deck before any stain is even applied. Here in Louisville we have a pretty harsh climate, from baking summer heat to some pretty cold winters. Then there's the whole humidity factor that's thrown into the mix and… Well, it's just a good idea to keep a professionally applied finish on your Louisville stained deck to keep it looking good year in and year out.
Call us for an Deck Staining estimate 502-338-8129
Beyond doing decks, we can also power clean other areas on your property while we're there doing the pre-stain cleaning on your deck. Sidewalks have some green algae growing on them? Maybe your back yard pavers need a good cleaning? Have us out for an estimate and see how competitive that we are with our Louisville deck staining services. We think you'll be impressed!
If you're surfing the net looking for a quality local Louisville based Deck Staining Company with competitive pricing, then great! You've found us. To find out how you can save a considerable sum on a quality Refinished Deck Stained, or a Deck refinishing project follow the link below.
Call Josh or Brent for an Deck Staining estimate today 502-338-8129