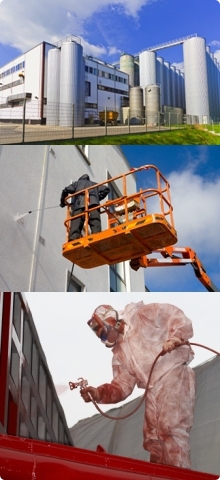 Being a Louisville based commercial painting contractor takes more than a van and a few ladders. Being a true commercial painting contractor takes a whole lot more than most painting companies can actually deliver.
Blaine in Louisville says: I'm the owner of a small local painting company and kept getting calls from big outfits wanting huge commercial painting projects done. I don't have the capacity, tools, or manpower to do commercial painting jobs of this size so last year I started turning them over to Precision Painters. They've not let me nor any of these clients down. They've done some very large commercial painting projects including epoxy floors. If you need something big painted and need it done right with no muss or fuss.. Give them a call. They're great Louisville Painters.
Will your commercial painters bring your Louisville based commercial painting job in on time and schedule? Will they have the proper certifications and insurance for the unique work they may be doing? Will they be familiar with the commercial coatings that you may need applied on, or in your location? Will they have the manpower and assets to do a job of your size and scope?
If you're concerned with the scheduling, quality, and timeliness on your upcoming project we encourage you to give us the opportunity to place a competitive bid.
We have experience painting buildings of all sizes in Louisville. Interiors? Exteriors? Epoxy finishes? We have the experience and know how to handle all of these.
Large projects? Yes we have the man power to get your commercial painting project completed on time and on schedule. As business owners ourselves we know how important it is to you.
Contact us for a free painting estimate 502-338-8129
Our painting is scheduled so that you're commercial business can remain operational.
We have the experience and know how with all commercial and industrial coatings.
We adhere to all paint specifications, ensuring your finish lasts.
We use Low Voc, Low Odor paints for your Louisville offices, or apartment areas when needed.
We're fully insured to do large commercial jobs. Factories? Warehouses? We're covered.
We have the experience and personnel to do large commercial painting projects.
We have a project manager on all commercial/industrial painting jobs in Louisville.
 Give us a call or contact us today for a fast free estimate! 502-338-8129