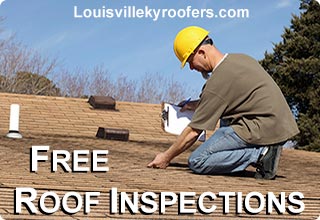 It's not at all uncommon for our customers to ask us about other types of home or building maintenance. Our go to company in Louisville for all things roofing related is the Louisville KY Roofers.
They're local and are available to do free roofing estimates and inspections. Face it; we get some crazy weather here in Louisville and hail storms are a fairly regular thing when it comes to our spring time season.
If you get a good hail storm on your home you can give these guys a call and they'll come out and inspect your roof for free. If your roof does need attention chances are good that they're familiar with your insurance company and will know the ins and outs of assisting you with a claim for any damages caused by the hail or wind to your roof.
They Do More Than Just Roofing
Ask them about their vinyl siding and gutters. They do good work and have samples of products that they can bring with them. Pretty much all of their gutters are seamless and professionally installed so that they have you covered there too.
And they can do replacement windows too.
When we need some roofing done this is who we call.
To get an estimate just visit their website at http://louisvillekyroofers. Tell them you found them here on our blog!