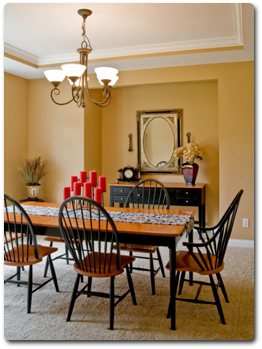 We love to do Interior Painting for our Louisville and Southern Indiana customers!
Kasey Whitson Boswell of Louisville says: Precision Painters have painted the inside of our last two houses. They did a fantastic job. We would recommend them in a heartbeat!
We do love doing interior painting. The smiles and joy we see on our customers faces at the end of a project is great!
Painting the interior of your home does a lot for ones mood and general over all feeling. Having your own colors that match the other items in your home is very important and we know that.
If you need color consultation we can provide those services for you, or work directly with your interior decorator if needed. We've worked with several of the local decorators for quite some time now and may already have a relationship with your decorator of choice.  Call us for a free Louisville interior painting estimate 502-338-8129
Our Interior Painting Process:
Our interior painters arrive on time with a great attitude.

All of the floors get tarped off before we paint.

All furniture is moved and covered up.

All the outlet and light switch covers are removed.

All of the dings, and nail holes in the walls are filled.

We apply the new paint to the specified areas.

All of the face plates are reinstalled.

The furniture is put back in place.

When we're done the effects are dramatic !!
Give us a call and we'll make an appointment to come out and get a good look at any upcoming Louisville Interior painting project you may have.
Contact Josh and Brent for a free Louisville interior painting estimate 502-338-8129