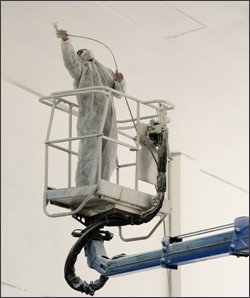 Industrial painting in Louisville KY takes different tools, equipment, and experience than most standard painting companies have on hand.
Hire The Right Industrial Painting Contractor
If necessary, and when possible, we can do your project while your facility remains functional.

We use and have experience with manufacturer recommended finishes on industrial paint jobs.
We have the tools, personnel, and experience with large industrial painting jobs of all types.

We have extensive ladders, scaffolding, and access to all types of lifts for high areas.

We have adequate insurance that allows us to do large industrial painting projects in Louisville.
If you are a Louisville KY based facility manager, warehouse foreman, property manager, or maintenance director of a large factory or business in need of getting bids for a large upcoming painting project. We would like to have a chance to place a bid.
We have extensive experience with Louisville based industrial painting projects of this type, and an accompanying history of bring them to successful completions.
Give us a call or contact us today for a fast free industrial painting estimate! 502-338-8129