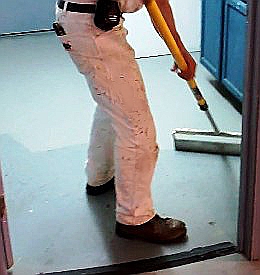 We've been doing Epoxy Floor Painting for our residential and commercial clients in Louisville for several years now.
MattM from Louisville says: These guys came on quick notice and did a fantastic job. I had a garage reworked with new lighting and concrete and called them for the painting. They patched drywall, concrete walls, and a concrete floor with cracks. They painted the ceiling and walls and put special paint on the concrete walls. The big project was epoxying the concrete floor. They obvious had a lot of experience with epoxy and did a fantastic job on the floor. Their work ethic, professionalism, and attention to every detail was great. I recommend them without hesitation.
Doing an Epoxy floor is not something we recommend home or business owners tackle themselves. There are a lot of factors to consider before putting down an epoxy finish. For instance, new concrete floors must age for a minimum of 30-45 days prior to the introduction of an epoxy finish.
Any cracked or damaged areas of the floor should be repaired and given time to cure before the new epoxy floor paint is applied. Some floors need to be diamond ground with a machine before the new epoxy will adhere to the concrete. Then other floors only need to be acid washed to clean off any grease or grime followed with a good neutralizing rinse and a few days of adequate drying time.
In a nutshell? Due to the variations such as age, condition, previous use and history.. Every epoxy floor we do is approached as a different project. Most are relatively easy in scope of preparation and final coating applications. If on the other hand the floor is in bad shape, the preparation and epoxy finishing can be a much larger project.
Contact us today for a fast free Epoxy Floor painting estimate! 502-338-8129